Michael Messer is a virtuoso slide guitarist, singer, and blues innovator.  
Throughout his forty year career, his music has remained individual and contemporary. Michael Messer's reputation as an innovator of the blues and master of slide guitar is well known.  
Being British with an international reputation for blues slide guitar is a rarity in itself, but Messer's obsessive appetite for knowledge of his art is virtually unrivalled. His stunning slide guitar playing and superb vocals, ooze authenticity and integrity. His use of turntables in the Second Mind Band marked him as one of the trailblazers of the 21st century blues sound and his current band, Michael Messer's Mitra, is once again breaking new ground, playing an exhilarating and accessible fusion of rural blues and Hindustani classical music. Their highly acclaimed album, Call Of The Blues, was iTunes No1 blues album and has won them worldwide acclaim, receiving radio airplay in more than 40 countries. 
Johnny Cash was a fan of Michael Messer's music and wrote the liner notes for his 1993 album Rhythm Oil, a rare honour shared only with Bob Dylan on Nashville Skyline. Rhythm Oil was awarded Import Album of the Year by the Austin, Texas, music press. Messer's King Guitar album reached number one in the US Living Blues chart. Second Mind won Best International Guitar Album of the Year and the American magazine 'Spirit' listed Michael Messer as one of the greatest slide guitarists ever, alongside Duane Allman and Ry Cooder. 
Michael Messer has released ten albums, produced albums for other artists, toured worldwide, recorded numerous live radio/TV sessions, and appeared in his own 'Blues' episode of BBC TV show, Zingzillas. He also has a successful line of MM guitar products; including Michael Messer Resonator Guitars, Michael Messer Newtone Guitar Strings, and a series of slide and lap steel guitar tuition DVDs.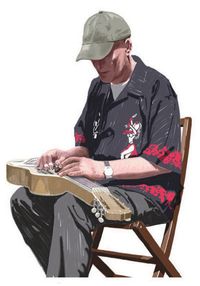 Michael Messer plays Fine Resophonic guitars, Dave King guitars, vintage National & Dobro guitars, and uses Newtone strings, Calton cases, Reunion Blues gig bags. Michael mostly uses slides and tone bars made by Daddyslide, Diamond bottlenecks, Tribotone and Ben Burrow.
MM interviewed in 2021 for "Wild Wild Slide!" by Amano Manish.
(This is a very good in depth interview with Michael)