Michael Messer's Mitra
Michael Messer - Vocals, Slide & Lap Steel Guitar
Manish Pingle - Indian Slide Guitar (Mohan Veena)
Gurdain Singh Rayatt - Tabla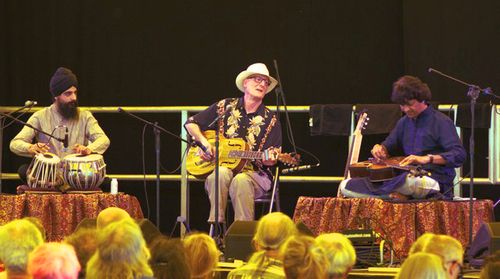 Michael Messer's Mitra is a unique musical trio of blues slide guitar, Hindustani slide guitar, vocals and tabla rhythms.   
Mitra (pronounced 'Meetra') is a trio comprising British blues innovator and slide guitarist, Michael Messer, Hindustani slide guitar maestro from India, Manish Pingle, and London-based tabla master, Gurdain Singh Rayatt. 
This is more than another meeting of musicians from different cultures, this is a band with a successful album and its own unique sound - "an exhilarating and highly accessible fusion of blues and Hindustani classical music" -  With vocals, slide guitars and tabla, these three musicians, each at the top of their game create a fascinating musical journey, running from the banks of the Mississippi, via London and Mumbai to the Ganges delta.  
Their debut album, Call of The Blues, released in 2016 was immediately picked up by the blues, folk and world music media, getting radio airplay and press coverage in more than 50 countries and hitting #1 in the iTunes blues chart. Since the release of the album, Michael Messer's Mitra have done seven successful UK tours, including shows at London's Bush Hall and Green Note. UK festival appearances include Musicport, Shrewsbury Folk, Shambala, and many of the UK's leading venues.

Call of The Blues continues to be played worldwide on radio and in the UK on Jazz FM and the BBC, including a live BBC Radio 2 session on Cerys Matthews Blues Show and airplay on BBC Radio 2 The Folk Show and Cerys Matthews on BBC 6Music
​Michael Messer's Mitra - nominated in the 'Best Group of 2017' category in the 'Songlines Music Awards' ​ 

eFestivals review RED ROOSTER 2023 ....Things got even better when Michael Messer's Mitra took to the stage, mashing up western and Hindustani sounds to truly mesmerising effect. Easily one of the best performances of the weekend, or indeed any weekend.
Thank you Michael, Manish and Gurdain for an incredible evening of music…..Michael Messer's Mitra were truly one of the highlights of the 2023 Masala Festival!! 
Vikas Kumar MBE - Director of Masala Festival & GemArts
#7 - Ted Gioia's 100 USA Best Albums of 2016    
#1 - iTunes Blues Chart - February 2016    
#1 - World Music Network Chart - April/May 2016    
#1 - IBBA Chart - February 2016   
#6 - IBBA Albums of the Year 2016  
#10 - Transglobal World Music Chart - April 2016 
#4 - Argonauta - Best World Music Albums of 2016    
fRoots Playlist Top 10 - January/February/March 2016    
Songlines 'Top Of The World' Top 10 - April 2016    
Blues Matters Top 10 - February 2016  
Guitarist Magazine 'Album Of The Year' - 2016 
Call of The Blues reviews 
"MAGNIFICENT INDIAN BLUES ....Call of The Blues is a remarkable fusion of country blues with Hindustani music, showcasing the splendour of the slide guitar and the talent of three extraordinary musicians".  
Angel Romero World Music Central  
"The most exciting and creative blues innovation I have heard in years!"  
David Freeman Jazz FM 
"The trio spent two days in the studio recording this quite superb album. Messer's regular blues repertoire is the source of much of the material – but they're transformed by the Indian musicians, as the dark, droning mojo of the Delta is lent additional mystery by the layers of raga-like atmospheric ambience. Best of all is 'Bhupali Blues', in which the exchange works in the opposite direction, with Messer's bottleneck blues tropes blending seamlessly into the structure of a traditional raga as the two guitarists exchange licks with scintillating panache".  
Nigel Williamson Songlines  
"There's nothing I Like more than a meeting of musical minds where you can't hear the joins, and that is absolutely what we've got here. Messer is rare amongst Brit bluesniks, in that he possesses a real feel for the music and yet gives it his own personal stamp. This is an acoustic blues album that takes the music right back to the deltas; Mississippi and Ganges". 
Jamie Renton fRoots  
"...Not since the Beatles teamed up with Ravi Shankar back in the day has there been such an experimental and inspired meeting of musical cultures. I've no doubt this album is going to be internationally lauded for both its musicianship and Messer's stunning vision".  
Iain Patience Music News USA  
"Filled With Eastern Spice and Magic. Every note is blues that shimmer like sari silk. This album is a success due to the melodious delivery of the lyrics from Michael, plus the grounding of his guitar skills keeping the blues rooted in the soul. The tabla and Mohan veena add texture, tone and twists in the beat and cadences of the blues. Call of The Blues is a mighty voice" - 10 out of 10.   
Liz Aiken Bluesdoodles   
Call of The Blues on the radio 
Call of The Blues has had radio airplay in more than 50 countries, here are a few... 
BBC Radio 2 - Cerys Matthews Blues Show, UK (live session)
BBC Radio 2 - Mark Radcliffe The Folk Show, UK 
BBC Radio 2 - Paul Jones Rhythm & Blues Show, UK
BBC Radio 3 - Max Reinhardt Late Junction, UK
BBC Radio 6Music - Cerys Matthews Show
Jazz FM - David Freeman's Blues, UK (3 live sessions)
ALBUM OF THE WEEK - KCOR Kansas City Online Radio, USA  
ALBUM OF THE WEEK - Rootsworld Radio, USA   
ALBUM OF THE WEEK - World Fusion Chicago, USA  
ALBUM OF THE WEEK - Willi Klopottek, Mondophon Auf Radio, LU 
ALBUM OF THE WEEK - André Rhéaume, Canada 
ALBUM OF THE WEEK - Elena Wolay Sverige Radio, Sweden  
ALBUM OF THE WEEK - Lauri 'Arno' Ankerman, Lähiradio, Finland  
ALBUM OF THE MONTH - IBBA (Independent Blues Broadcasters) 
ALBUM OF THE MONTH - Chris Heim Global Village Radio, USA  
ALBUM OF THE MONTH - Mundofonias, Spain   
BBC Radio Nottingham - Hansa Dabee Asian News & Music
BBC Radio Stoke - Ajmal Hussain Asian News & Music