Michael messer fiddle edge ®
OFFICIAL LAUNCH
WEDNESDAY 23rd MARCH 2022

PLEASE NOTE - I have been inundated with email enquiries about the new MM Fiddle Edge guitar, which I am more than grateful for. This does mean it is taking me a while to read and reply to every email, so PLEASE BE PATIENT. I promise I will reply to every email. 
🙏THANK YOU 🙏
MICHAEL MESSER MM FIDDLE EDGE ®

The Michael Messer Fiddle Edge has taken six years to develop and manufacture. Against all odds and coming up against obstacles at almost every point in the development and construction, I am proud to say that I have created something rather special, that has not been made since the 1930s. 
LIMITED EDITION OF ONLY 220 GUITARS
As an almost exact replica of a 1930s instrument (apart from a handful of adjustments to improve on the original designs), this is a beautiful guitar. Each one of the 220 bodies is completely handbuilt in the same way as they were originally made. It was the only way to create proper rolled edges like they were in the '30s. This means that every guitar is different, with its own individual character, just as a handmade guitar should be. 

As with all MM Guitars, every Fiddle Edge guitar will be serial numbered, and will come with a signed and numbered owner's manual. Once the 220 are gone, there will never be any more.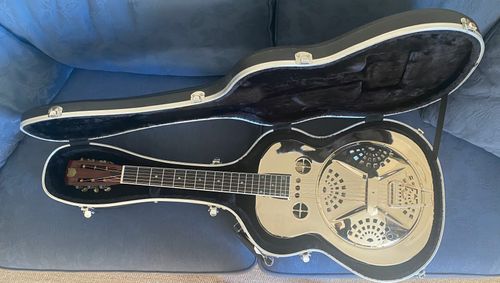 SPECIFICATIONS: Nickel plated brass body, rolled edges, offset spider, spun aluminium cone, boxwood saddle, 13¾ fret neck join, arched back, one-piece mahogany neck, bound Blackwood Tek® fretboard, abalone dot markers, three on a strip tuners, fitted with Michael Messer Newtone Strings. The guitar comes in a traditional style ABS hard case. The Michael Messer Fiddle Edge comes as standard with a spider style cone, but when ordered can be fitted with a biscuit bridge 9½" cone. 

THIS REALLY IS A NEVER TO BE REPEATED RUN OF ONLY 220 GUITARS
Michael Messer MM FIDDLE EDGE - £1795.00 GBP plus delivery (£47.00 UK mainland and £75.00 for most European countries). For all other countries shipping prices quoted on each enquiry. These guitars are shipped with UPS.
MICHAEL MESSER MM FIDDLE EDGE - IN STOCK NOW! 
For more information contact - info@michaelmesser.co.uk
Also visit or join the Michael Messer Forum where there is a thread about these guitars - www.michaelmesser.proboards.com
 
MICHAEL MESSER MM FIDDLE EDGE SPECIAL ®
Soon to be available is the beautiful sandblasted Fiddle Edge Special. This design was created for the MM Fiddle Edge by renowned resonator authority and author of "Palm Trees, Senoritas & Rocket Ships!", Mark Makin